Ferries from KOS to Bodrum
& Bodrum to KOS.
Book your tickets online instantly with immediate confirmation.
FREE SAME-DAY ROUNDTRIP TICKET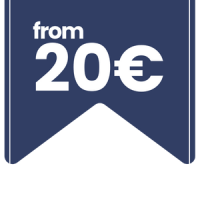 Hotel Pickup & Free Shuttle to City Centre and Market
We have been operating in the Aegean for the last 58 years. Experience the convenience of booking your ferry tickets online with EXAS Travel for your journey from KOS to Bodrum and Bodrum to KOS. Issue your electronic tickets instantly with only a few clicks, with real-time ticket availability for peace of mind. You can sit back and relax while we take care of your transportation needs to ensure a smooth and hassle-free journey. 
Need assistance? Find us at our Main & Port Offices or contact us directly.
Don't hesitate to contact us for more information.
 Vas Georgiou 10 Str., Kos, 853 00 , Greece
 +30 22420 29900
 agency@exas.gr